Description
Elevator Space Sanitizer 
REDUCE THE SPREAD OF BACTERIA AND VIRUSES IN YOUR BUILDING
The new Elevator Space Sanitizer uses air ionization, significantly reducing airborne bacteria          and viruses in your elevator.
IONIC AIR PURIFICATION TECHNOLOGY
The Elevator Space Sanitizer generates millions of negative ions that are circulated through  the air using your existing fan. These ions attach to bacteria, viruses and microbes in the air, causing a chemical reaction. This degrades and neutralizes the harmful pathogens, helping to reduce the spread of airborne infection.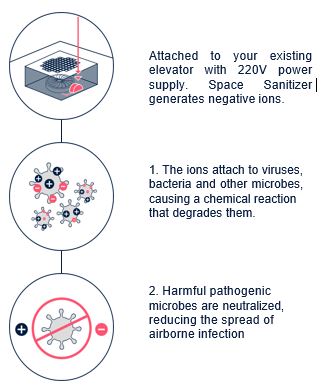 EASY INSTALLATION & OPERATION
This unit can be installed easily and need 220V power supply. The unit continuously purifies air without having to be charged, refilled or cleaned outside of regular elevator maintenance.
AIR PURIFICATION AND COVID-19
Several studies have found that the coronavirus SARS-CoV-2 spreads mainly through the air. So we need a device that can disinfect air from airborne viruses and bacteria.
Specifications
| | |
| --- | --- |
| Power Supply | 220V / 50Hz |
| Effective Range | Up to 3,000 Cuft |
| Operation Temperature | 00 to 650C |
| Operating Humidity | 15% to 85% (with no condensation) |
| Weight | 150 g |
| Dimension | 12 (L) X 3 {H) X 8 (W) cm |
| Power Rating | 2W |
| Indicator | Yes |
| Noise Level | 0 Db |
| Life Cycle | 6 Years |
| Warranty | 1 year replacement* |